We have designed and developed our watermakers to be cutting edge, yet still user friendly and serviceable. We are happy to provide the following maintenance and care guide instructing our customers how to properly and safely service the membranes, filters, pumps and various other devices that your watermaker may be equipped with.
In the event you require further information for servicing your watermaker, you may contact our technical department or locate an authorized dealer and servicing center near you.
Membrane Cleaning Procedures (pdf)
Maintenance and Repair Guide (pdf)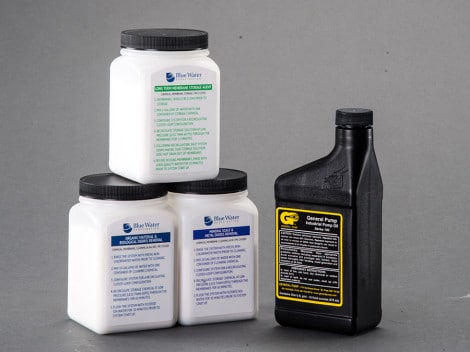 The following maintenance items are available through your local Blue Water Desalination distributor and can be ordered by referencing the supplied part numbers.
CH1001 – Membrane Storage Compound
CH1002 – Acid Cleaner
CH1007 – Alkaline Cleaner
CH1008 – Rust Remover
KT1303 – Membrane Cleaning Chemical Kit
(Kit includes Acid and Alkaline Cleaners)
A190203 – 16 oz. High Pressure Pump Oil