Blue Water Desalination offers five distinct lines of watermakers to suit the needs of the most discerning mariners, from the day fisherman up to the long-range sailor and transoceanic yachtsman. Within the five lines, we offer dozens of models of varying capacities in both frame and modular style configurations.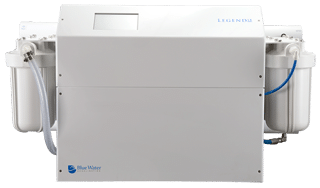 NEW!
The
LEGEND LX series
is the world's first fully automatic Megayacht & Commercial size watermaker. The Legend LX offers one touch operation and continuous monitoring to maximize product water production and quality through the 7"
full color touch screen
, which provides an intuitive interface between the user and the system.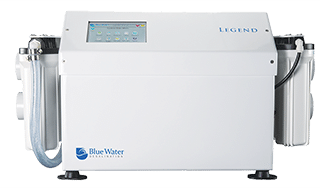 The
LEGEND series
features the latest in watermaker control technology with its industry leading 7" full color icon driven
touch screen controller
 and capacities ranging from 475 gallons per day up to 1850 gallons per day. All Legend series systems use the same pump and motor assemblies and are fully upgradeable.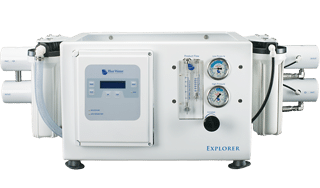 The
EXPLORER series
offers a more traditional mechanical control system combined with constant electronic monitoring of key system functions. Like the Legend, the Explorer is available in capacities starting at 475 gallons per day ranging up to 1800 gallons per day and are fully upgradeable.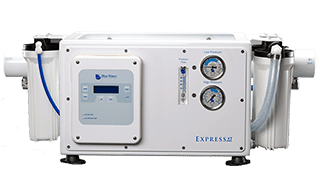 NEW!
The
EXPRESS XT series
features fully automatic operation with capacities of up to 33 gallons per hour (126 liters per hour). These units were designed to fit into the tight spaces of small and mid-sized yachts. The one touch operation makes the Express XT series ideal for applications where it is difficult to access the watermaker while the vessel is underway.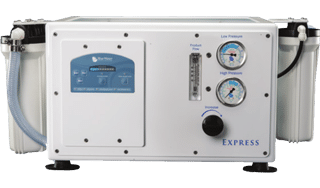 The
EXPRESS series
features the same mechanical control systems and electronic monitoring as the Explorer, but in a smaller package suitable for the tight spaces of smaller and mid-sized yachts. The Express is available in capacities ranging from 200 gallons per day up to 800 gallons per day.
All Blue Water systems feature:
Fresh Water Flush system
High Rejection membranes
Quiet and reliable high pressure pumps
Product water Carbon filter
Dual voltage 50/60 Hz motors
Stainless steel booster pump shaft
Designed for ease of service & maintenance
Installation kit including bronze sea strainer
No charge upgrade to Commercial Pre-filter**
No charge Oil/Water Separator assembly available**
** When ordered with a system
All systems are also available in modular, customizable component versions and we offer a full lineup of filters, remotes, fluids and other accessories.