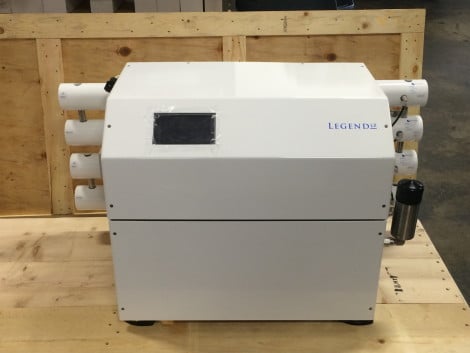 Blue Water Desalination recently supplied a Legend LX watermaker for installation aboard the NOAA research vessel Gordon Gunter. The Legend LX is a fully automatic reverse osmosis desalination system and has a capacity of 3,200 Gallons per day. BWD's engineers modified the standard LX to meet some unique requirements of the NOAA ship. These included the addition of a Pulsation Dampener to the high pressure pump and a membrane cleaning loop and tank.
About the Gordon Gunther
The NOAA Ship Gordon Gunter—a 224-foot, multi-use research vessel was originally built in 1989 as the U.S. Naval Ship Relentless, this ship was transferred to NOAA in 1993 and commissioned as the Gordon Gunter on August 28, 1998.
The Gordon Gunter primarily serves the National Marine Fisheries Service (NMFS), assisting NMFS in accomplishing its responsibilities for conserving and managing our Nation's living marine resources. The ship's homeport is located at the NMFS Pascagoula Laboratory in Pascagoula, Mississippi. The Gordon Gunter operates primarily in the waters of the Gulf of Mexico, Atlantic Ocean, and Caribbean Sea. The ship conducts scientific surveys of the health and abundance of fishery resources and marine mammals. The vessel is operated by NOAA Marine and Aviation Operations.
The Gordon Gunter accomplishes its mission by collecting sophisticated information on commercial and recreational species of fish, the ocean environment and the habitat. In addition, as an acoustically quieted research ship, it serves as an excellent platform for the study and observation of marine mammals.