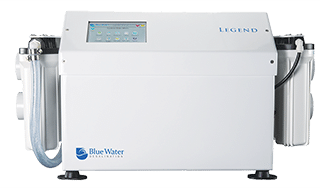 The Ship's Systems feature of the latest issue of Marlin Magazine (March '15) covers the brilliance of having an on board watermaker that uses reverse osmosis technology to turn salty sea water into pure potable water that is actually cleaner than most municipal and dock water supplies!
The World's Largest Watering Hole

With a Watermaker, the Ocean Becomes a Limitless Supply of Freshwater

Once considered an extravagant option aboard a sport-fishing boat, watermakers are pretty much standard equipment today, with many boats even utilizing two units. Having a steady supply of potable water to shower, cook, live aboard and wash the boat with at the end of the day is a huge benefit. Converting salt water to fresh via the reverse-osmosis process gives you virtually mineral-free water, so it is far less damaging to topcoat finishes and Isinglass curtains than city or dock water. It's also better for ice machines and the entire freshwater system.

Like almost everything else, manufacturers have worked hard to continually improve and update their units with more robust and reliable components. The development of modular components makes a more efficient use of space and conveniently takes up less room in engine spaces and pump rooms. Most manufacturers offer a wide range of hourly and daily production capacities to fit the criteria for many boats and the required use.

Similar Operation

Boatbuilders who frequently install units have their favorite vendors for a host of reasons, and captains do as well, typically familiarity and service. The basic operation of any unit is very similar, so adapting to different manufacturers isn't really a big deal as you move from boat to boat. Having the ability to get parts and reliable service should you have a breakdown wherever you fish or travel is always a top consideration.

With the integration of automated switching, relays and sensors, the ability to start and stop the water-making process without entering the engine room is a major convenience. One of the more recent trends has been the integration of wireless remote control of the units through the use of apps on smartphones and tablets. Not only will these tools start, stop and freshwater flush the units, but they can also be set to run for a specific time or maximum gallon production needed. They can conveniently monitor intake flow, product flow and total gallons, depending on the settings in the app. Several manufacturers also have the ability via a NMEA 2000 backbone to display and operate the units on shipboard monitors.

Blue Water
Blue Water Desalination is a relative newcomer to the marketplace with their Legend series of reverse-osmosis marine watermakers. The Legend series offers units with capacities from 475 to 1,850 gallons per day. Available in modular or container configuration, Blue Water units include a full-color 7-inch touch- screen display for simple operation. The large user interface with easily recognizable icons takes a lot of the worry out of operating the unit. Blue Water's proprietary software continually monitors operation, helping to maximize production and quality. Featuring remote operation with NMEA 2000 or optional 3- or 7-inch color screens, the Legend series also features high-rejection membranes, freshwater flush and longlife Monel transducers, making it a fullstrength competitor in the market.