The REHAB Fishing Team Chooses Blue Water Desalination
"You can stay out longer when you have access to more and more fresh water," declared Jasen Gast, after having a new Blue Water Desalination Express XT 600 installed on his 45' Buddy Davis sportfish REHAB. Gast hails from Freeport, Texas and enjoys fishing throughout the Gulf of Mexico – both for fun and for lucrative tournament purses.
Fishing along the Gulf Coast of Texas is a bit different from some other areas. To hunt billfish, you must travel 80 to 125 miles offshore. These distances aren't well-traveled in a single day and involve overnight and 3-day fishing trips for most boats.

Planning is Paramount
In the past, multi-day fishing trips required careful planning for Gast and his crew. "We would top off the water tank [150 gallons] and then load the boat down with jugs of water and bags of ice," Gast recalls. Water conservation was a must on fishing trips and required fast showers with the water turned off when soaping up. Use of the marine head was also strictly limited.
Gast knew there was a solution and planned a trip to South Florida for the Miami International Boat Show. His plan to visit every marine desalination company during the show was halted abruptly once he visited the Blue Water Desalination booth. "They had extensive knowledge of their competition and had built their products to be superior, so they could readily answer the questions over their competitors," said Gast. "The Blue Water team knew their stuff, and were genuinely interested in helping with our unique offshore fishing water needs."
The fully-automatic Express XT 600 was determined to be the best solution to Gast's offshore water woes. The new watermaker arrived in Freeport "conveniently on a pallet, shrink-wrapped and well-protected, with everything ready-to-assemble: hoses, clamps, hardware – everything but thru-hulls." More than a year has passed since Gast equipped the 45' Davis with a reverse osmosis watermaker from Blue Water Desalination, and he & his crew couldn't be more pleased with how the system has lightened their offshore load.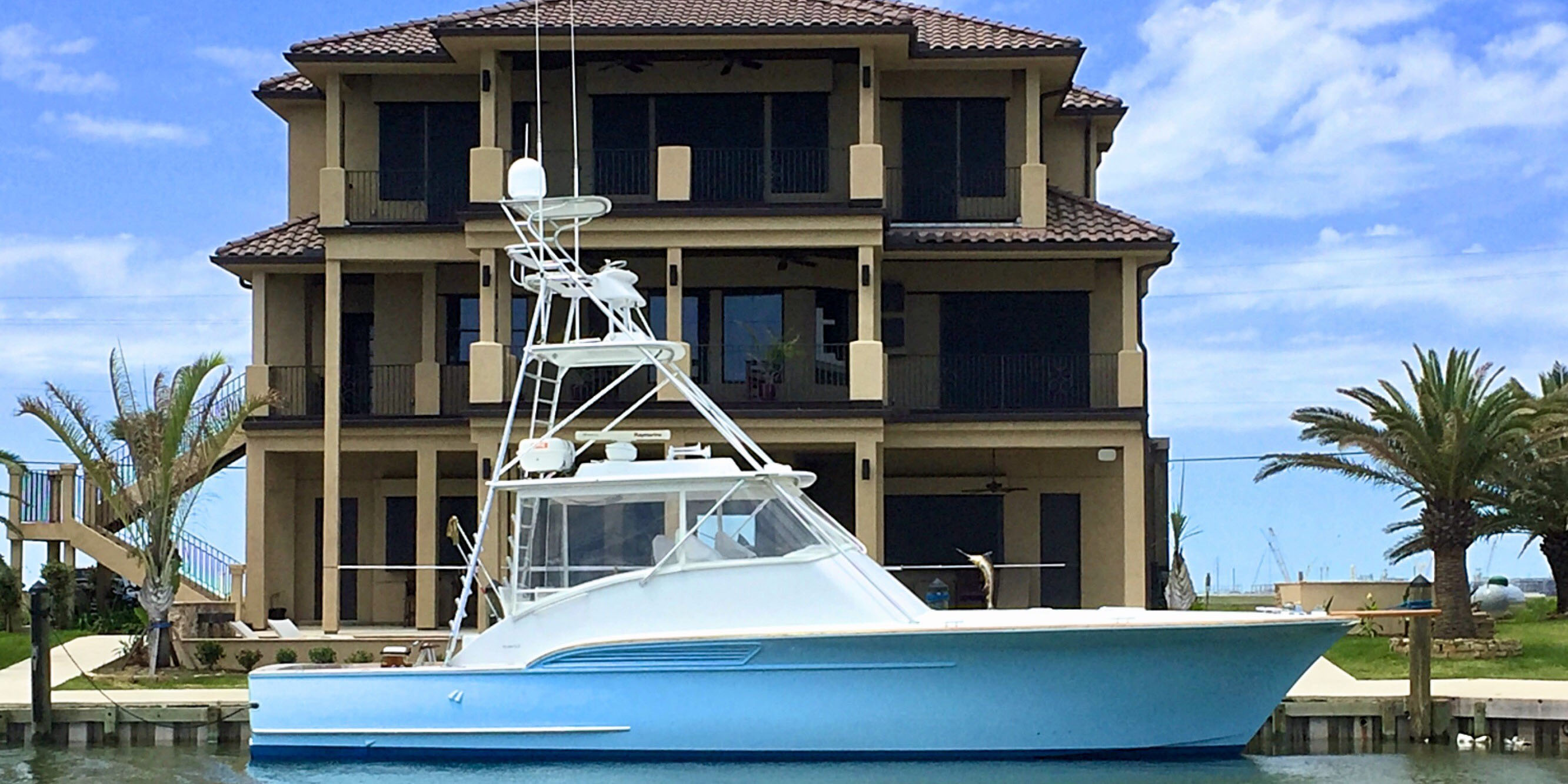 Easy Does It
"Make-ready has been much easier!" Gast and his crew no longer fret with topping off the water tank, and scrambling for bags of ice is no longer part of their prep program. Making ice all day, every day and taking long showers with fresh water is a huge benefit. "It's better than bottled water – you can drink it," Gast brags. His bragging has lead other Gulf Coast captains to equip their boats with watermakers from Blue Water Desalination, including the well-respected 54' Bertram, Smoker II.
After the sale, the Blue Water team has stayed in close contact with Gast, as they strive to do with all customers, for recommendations, installation and any spare parts needs. "It's so comforting to know that they're just one call away from supporting anything on the unit." Gast beamed. He ordered his Express XT with the optional wired remote which was installed at the helm. "I can't tell you how great it is to have the remote keypad saving you from having to enter a hot engine room to throw a switch and monitor the unit, and it automatically adjusts based on salinity and water temperature to produce the best water."
Going Out Deep
Fishing in the Gulf is often a multi-day affair involving 300 to 400 miles of travel. In addition to trolling and live baiting for marlin and tuna, anglers also deep drop lines 300' to over 2000' just off the fish-attracting oil rigs for swordfish, snapper, grouper and more. Given the extremes it takes to fish the Gulf and the incredible conservation ethic of their anglers, the fishing grounds are plentiful and the tournaments to showcase prize catches run thick.
The Texas Billfish Classic (TBC) is one of the Gulf's finest offshore events that Gast proudly manages. One of the fastest growing billfish tournament in Texas, this August tournament allows teams to depart from any port in Texas and fish the deep blue for 2 days before returning for final weigh-ins and the awards banquet.
The TBC works with several organizations to donate proceeds back to charities including Freedom Alliance (supporting active duty military and their families), and The Billfish Foundation. They also work closely with the Freeport to Port O'Connor Toy Run, which blesses thousands of children in foster care with toys and clothing at Christmas through the Adopt-an-Angel program. Additionally, the TBC tournament rules are strict and conservation-focused, stating that any billfish must measure a minimum of 107″ to be boated.
Blue Water Desalination is honored to support the Texas Billfish Classic among other tournaments that focus strongly on conservation and charitable giving. As our global reach and product demand continue to expand, we are excited to give back to tournaments and organizations that share our passions. Gast concludes, "Blue Water Desalination is very supportive, with an exceptional price point, and very competitive in the market. Great products & a great team to partner with."