Meet the Blue Water Team in Miami!
February 14 – 18, 2019
NEW VENUE!
On Biscayne Bay, Booth 244
The prestigious Miami Yacht Show has a new location this year in the heart of Downtown Miami on Biscayne Bay. Located between MacArthur and Venetian Causeways, this new venue offers an expanded VIP lounge, more parking and a short ferry ride to the neighboring Miami International Boat Show.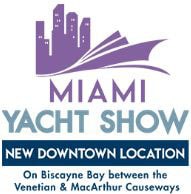 Party with the Blue Water Team
We are spreading some love to our customers and friends on Valentine's Day with complimentary cocktails from Gosling's Rum! Save the date and plan to join us on Thursday, February 14th from 5:00 – 6:30 pm at our display Booth #244 during the Miami Yacht Show.