Rationing Water is a Thing of the Past for Remote Charter Fishing Fleet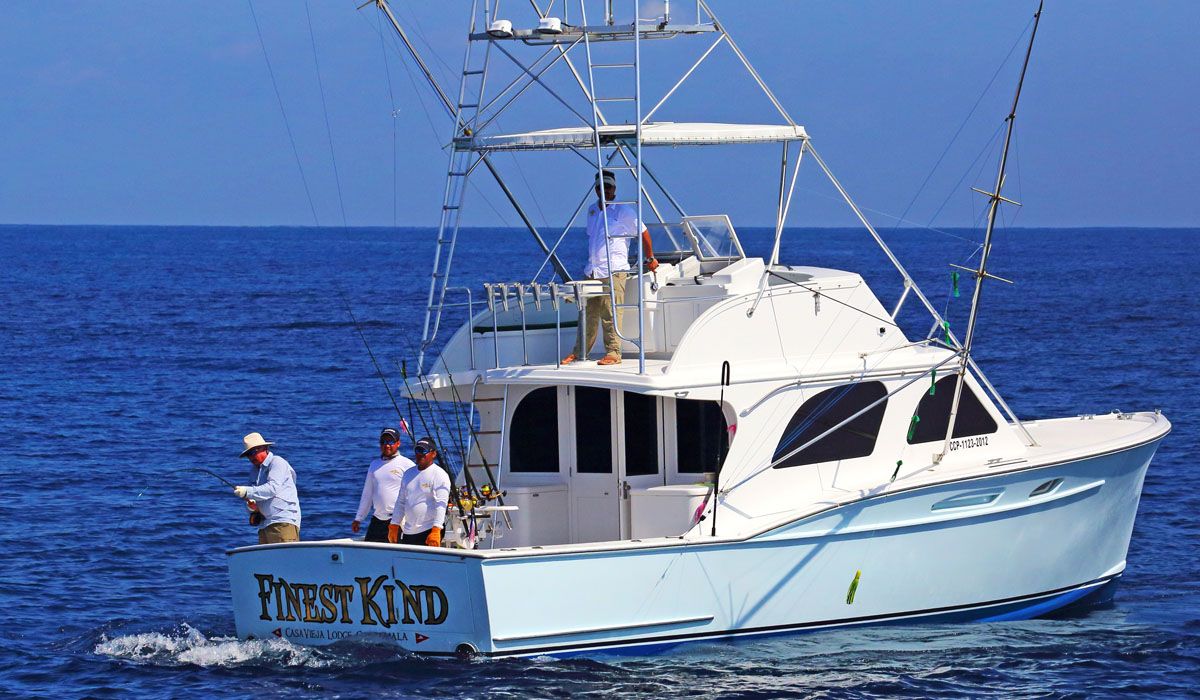 Casa Vieja Lodge Anglers enjoy endless water thanks to Blue Water Desalination
There comes a point in every captain and boat owner's career where a piece of equipment that once was seen as a luxury becomes a straight-up necessity. Captain David Salazar, owner/operator of the Casa Vieja Fishing Lodge in Guatemala, recently reached that tipping point with the water supplies aboard several of his fleet's custom sportfish boats. Captain Salazar explains, "With only so many gallons in the freshwater tanks, we were literally rationing water gallon-by-gallon during our day and overnight fishing trips."
Blue Water Desalination's Managing Director, Jim Santa has known Captain Salazar for many years, so it was an easy decision for Salazar to seek out Jim's advice on equipping the fleet with marine watermakers. "I've known Jim for a long time, and our friendship definitely played a role in choosing Blue Water, but the quality and advanced features of the products helped seal the deal," he explained.

World-Class Fishing
The Casa Vieja Lodge is world-renowned for their luxurious accommodations, five-star service and an impressive fleet of charter fishing boats that are manned by some of the world's most respected captains. Nestled on the Southwestern coast of Guatemala, Casa Vieja provides guests with access to some of the most fertile fishing grounds in the Pacific – some may argue the world.
The lodge's charter fishing fleet is an eclectic mix of custom-built classics from iconic sportfish builders such as Rybovich, Merritt and Whiticar, and a mix of convertibles, day boats and express boats. The fleet is rounded out by a pair of modern, yet highly-customized Contender 35 ST center consoles that provide brisk runs to and from the fishing grounds and full walk-around capabilities for those exciting multiple hook-up moments.
Speaking of hook-ups, each boat in the fleet regularly raises 12-15 fish per day to include Pacific sailfish, blue marlin, and even the occasional black marlin, plus tuna, Mahi and other meat fish. "One of the many things that set us apart from other outfitters," Kristen Salazar, Marketing Director and Head of Operations with the Casa Vieja Lodge explains, "is that we post the catch numbers daily for every boat fishing in our fleet. We like to keep things transparent." With the popularity of the lodge and their fishing fleet growing at a brisk pace, it was time to make a move to water on-demand for their larger boats.
Kristen also boasts about the health of the Casa Vieja fishing fleet: "The lodge owns a full-service boatyard with mechanics crew that performs regular maintenance and keeps our fleet in perfect condition. Guests love being on our boats and even ask to see the engine room, and we take them down to proudly show off how clean and well-kept everything is." If their boats' classic pedigrees didn't already have you convinced, the Salazars make it abundantly clear that these are not your average charter fishing boats.
Equipping the Fleet
In addition to regular maintenance, the boatyard is capable of performing complete refits to include engine repowers, new gensets and a full gambit of electronics, plumbing and mechanical work. Finest Kind, a legendary Whiticar 40 was recently repowered and the engine room was reconfigured to make space for a new Blue Water Desalination Express XT Compact 800 GPD fully-automatic watermaker.
"This system is amazing and so simple to use!" Captain Salazar continues, "With the wired remote in the salon, the system is started with the push of a button and gets to work making water. Anytime there is an issue it is super simple to diagnose with the display on the unit." The team was also impressed with how simple the installation for the unit is; "just make some space for it," David told them. Everything is provided for installation including sea strainers, hose and water lines.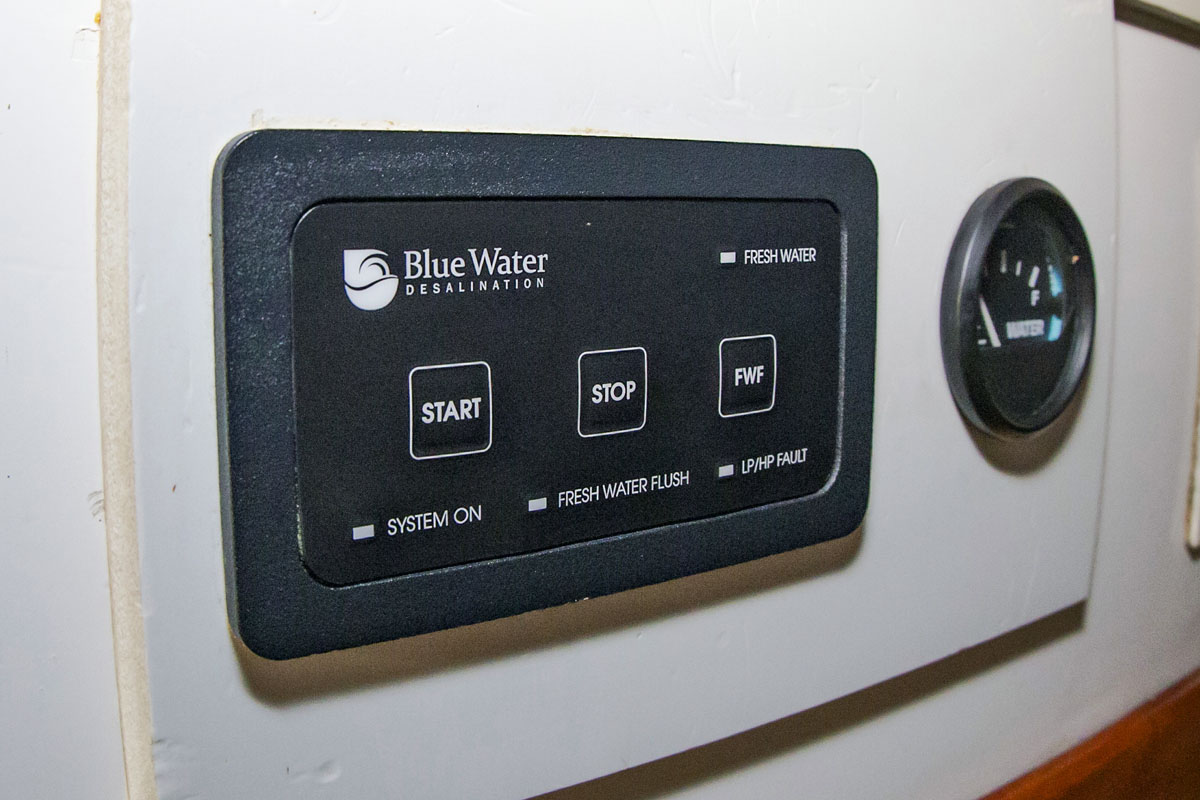 Finest Kind and her crew have been enjoying the new Blue Water Desalination system for several months now, and not only has the rationing of water ceased altogether but getting cleaned up back at the dock is a breeze. That's because the crew is now able to wash down the boat with the clean desalinated water as opposed to the hard, sediment-laden dock water. For a team that works hard all day to provide an unforgettable experience for their guests, it is now a relief to save time and effort once they're back at the dock rinsing down this classic boat. While the yard works to install more watermakers throughout the fleet, the mates are stretching the hose down the dock to clean off the other boats with the water from Finest Kind's Express XT 800.
The next boat in the fleet to receive a new watermaker from Blue Water Desalination will be Rum Line, a 1989 Gamefisherman 40 that, as of this writing is undergoing a refit at the Casa Vieja Marine Service yard. Once re-launched, the Rum Line will be the second boat in the fleet to provide ultimate comfort for her guests, with air conditioning in the salon and cabins, and an unlimited supply of water for showers and cleaning up in the galley. The newest member of the fishing fleet arrived in January 2018: Poco Loco. At 44' in length, this Kincheloe Nickerson is the largest boat, and the sixth classic wooden hull boat in the Casa Vieja Lodge fleet. Soon, she will also be equipped with a cutting-edge Blue Water Desalination watermaker providing simple, fully-automatic water production for the captain, crew and guests on both day and overnight fishing trips.
Initial impressions of the Express XT 800 aboard Finest Kind have been nothing but positive from the captain and crew. While the compact unit is already loaded with the best features and options, there was one upgrade Captain Salazar is incredibly pleased with on the new Blue Water Desalination unit: the Soft Start option. Finest Kind's installation utilizes 220V AC current from the onboard generator, and while the unit may only draw 13 amps during normal operation, starting amperage is rated at up to 47 amps which can strain a generator that is already powering several other high-draw systems. Blue Water Desalination's soft start feature diminishes that initial strain which will ultimately extend the life of the generator and help mitigate an overload situation. "I would highly recommend the Soft Start upgrade to anyone purchasing a new watermaker system," Captain Salazar exclaims.
Blue Water's Jim Santa adds, "We are proud to partner with such an incredible, all-inclusive luxury resort and charter fishing outfit. Casa Vieja Lodge provides an unrivaled experience at the lodge, and out on the water. Blue Water Desalination is honored to play a part in ensuring that guests enjoy a once-in-a-lifetime experience savoring some of the best fishing in the world, led by a team of seasoned and friendly captains and crew." On your next visit to the Casa Vieja Lodge, ask to see the Blue Water Desalination Express XT on one of their equipped charter boats – they will be happy to show it off!